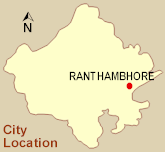 Ranthambhore
Lying on the main Delhi-Mumbai railway line, Swai Madhopur is the gateway to the world

renowned Ranthambhor National Park- the famous Tiger Reserve , just 12 km away from here. Ranthambhor has been a witness to the rise and fall of many rulers and a series of battle scenes. In the 13th century A.D. Govinda, the grandson of Prithviraj Chauhan took over the reign of the land. Later his successor Vagabhatta, beautified the city and built a noteworthy temple at Jhain.In the middle of the 15th century A.D. Rana Kumbha captured the fort and gifted it to his son to be occupied later by the Hada Rajputs of Bundi and Mughal Emperors Akbar and Aurangazeb. Mughal Emperor Shah Alam gifted it to Maharaja Sawai Madho Singh I of Jaipur in 1754 and since then it was maintained as the hunting preserve of the Maharaja. Queen Elizabeth II and the Duke of Edinburgh were part of the royal hunting who stayed here.


Transportation
Air
: Nearest airport is Jaipur (175 kms).
Rail
: Nearest railhead is Sawai-Madhopur (12 kms) which is on the Bombay-Delhi section of Western Railway.
Road
: Ranthambore is connected by regular bus service to Sawai-Madhopur 12 km, Agra 226 km, Bharatpur 166 km, Delhi 434 km, Kota 217 km, Jaipur 180 km.
Local Transport
: Private Horse driven tongas are available at the Railway Station. R.T.D.C. or private jeeps can be hired from Tourist Information Bureau, Sawai-Madhopur. Charges Rs.350-400 for full jeep for one trip to the National Park.
What to see

The Fort: Ranthambhors royal past manifests itself in the well-preserved imposing fort, built in 994 A.D. atop a steep high creek 200 metres above sea level. Ruined pavilions, walls, chhatris and splendid monuments are interspersed within the majestic fort. An 8th century A.D. Ganesh temple on an open land attracts thousands of devotees and is the venue for an annual fair held on. Bhadrapad Sudi Chaturthi, fourth day of the bright half, in the month of Bhadra.

Ranthambhor National Park: The 392 sq. km. Park comprises of dry deciduous forests sprawling over an undulating terrain of the Aravalli and Vindhyan ranges .The park is one of the finest tiger reserves in the country under the Project Tiger. The majestic predators, assured of protection, roam freely during the day time and can be seen at close quarters. Ranthambhor sanctuary has a large number of sambhar, chital. Nilgai, chinkara, langur , wild boar and peafowl. A system of three pretty artificial lakes-Padam Talab,Rajbagh and Milak Talab, alongwith a number of anicuts are part of the biosphere. Besides enhancing the scenic beauty of the Park, they are an important source of water for the inhabitants of the park. While deer congregate here to drink water,fresh water crocodiles can be seen basking in the winter sun to regulate their body temperature. The lake also attracts a large number of migratory and local birds. The local fauna of the park includes leopard, hyena, jackal, jungle cat, sloth bear and a little population of pythons. The lovely Jogi Mahal overlooking the pretty Padam Talab at the foot of the fort has a Forest Rest House. Other accommodation outside the fort also ensures a comfortable stay.

The best time to visit is between November and April. Jeeps are available to take you around the park.


Excursions

Amreshwar Mahadev 8 kms, Mahavirji 110 kms, Kela Devi 125 kms, Shivad 30 kms, Khandar 60 kms, Rameshwaram 90 kms in Khandar Area.